What is

Lean Six Sigma?

Lean Six Sigma is a process improvement methodology combining Lean manufacturing techniques with Six Sigma tools and strategies.

Some of the industries that use Lean Six Sigma include: healthcare, manufacturing, automotive, aviation, logistics, construction, banking, telecom, hospitality, defense, corporations, transportation, tourism, Information Technology, communications and technical services, unions, legal and financial services, retail, education, media and non-profit organizations.

Lean is a methodology that works on the principle of maximising value to customers while minimising waste. It focuses on reducing waste from processes to reduce costs of production while enhancing product/service quality.

Six Sigma combines the use of various tools and strategies to achieve process improvement. For process improvement, it uses the project methodology of Define, Measure, Analyse, Improve and Control (DMAIC). For product designing, it uses Design for Six Sigma (DFSS). The aim of Six Sigma is to improve processes, which leads to greater productivity, reduced costs, and enhanced quality of the product/service.

In Lean Six Sigma, Lean and Six Sigma methodologies are combined to eliminate waste and improve processes.

Advantages of

Lean Six Sigma

Organizations that use both Lean and Six Sigma see significant improvements in the following areas:
More Productive Business Processes and Operations
Prevention and Reduction of Errors
Reduced Waste
Elimination of Overproduction
Enhancement in the Quality of a Product
Increased Efficiency
Better Customer Satisfaction
Enhanced management
Reduced Costs
Increased Revenue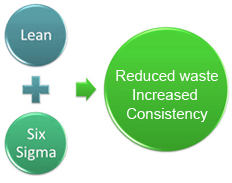 Businesses that implement Lean Six Sigma achieve measurable results in business processes improvement. Companies around the world use Lean Six Sigma to increase productivity, lower costs and increase customer satisfaction.

What is

Lean?

Lean is a methodology that works on the principle of maximising value for customers while minimising wastage of resources. Lean focuses on eliminating expenditure on resources that do not add value to the end product/service.

Organizations that use the Lean methodology continually eliminate or reduce waste in processes while enhancing the value of their end product/service.

What are the Advantages of

Lean?

Lean companies enjoy a substantial reduction in production costs, accurate identification and resolution of defects, enhancement of the end product and increase in customer satisfaction. With Lean, companies gain a competitive edge and are better able to respond to changing customer demands. The goal of Lean is to provide maximum value to customers by creating processes with zero waste.
Reduced Waste
Improved Customer Service
Improved Productivity
Production of High-Quality Products
Improved Management
Improved Efficiency
Reduction in the Use of Manpower
Identification of Errors
Timely Elimination of Errors that Lead to Waste
Reduced Costs
Businesses that implement Lean are able to reduce unnecessary expenditures in processes while improving the value of the end product/service.