Learning Outcomes -

Lean Six Sigma Black Belt Certification Training Course

During this course, you will develop:
Understanding and implementation of the concepts of Six Sigma
Ability to plan projects to achieve maximum process efficiency
Capability to recognize elements of waste and countering them
Skills to measure key aspects of a process to collect relevant data
Ability to create a process map
Ability to identify and measure process capability
Ability to analyse data in order to find cause-and-effect relationships
Identify the root cause of errors
Hypothesis testing knowledge
Ability to improve processes based on analysis
Understanding of how to use various industry models for process improvement
Ability to control processes
Ability to ensure errors are removed before they can damage a process
Understanding of capability analysis
Understanding and use of lean
Skills to control processes, productivity and waste
This Lean Six Sigma Black Belt Certification training course has been designed to build your knowledge and capability to improve the performance of processes, and subsequently, the performance of the business of which you are a part. The focus of the course is process-centric. Your role in process performance improvement will be enhanced through the use of the methodologies of Six Sigma, Lean and process management.
By taking this course, you will acquire a well-rounded and firm grasp of many of the tools of these methodologies. We firmly believe this is one of the most valuable classes that you will ever take, and we commit to provide you that value.
Inclusions:

Top Trainer

Certificate

Paper or Tablet

Tailored Training

Reinforcement

Tailored Training and reinforcement the way you like it -

see the difference for yourself.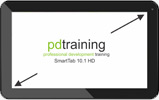 Learn how our Orgmenta helps us tailor the course to you, and provides you with better reinforcement and support to implement what you learned in class. Learn More